If you are a business owner who runs a commercial business, you know how important it is to have the best heating and cooling for your building. Not only do you have clients that you need to keep comfortable, but you also need to make sure your employees are comfortable, as well. In addition to ensuring customers and employees are comfortable, it's important that your commercial HVAC system is working at full capacity. Because it heats and cools large amounts of space, when you need a repair or want to upgrade to a new heating or cooling system, you need a commercial HVAC service company you can trust.
At Hanover Park HVAC, we don't just offer air conditioning and heating services for residential customers, but to commercial property owners, also. We are able to give your AC or heating system the attention that it needs and provide reliable and effective services that keep it in the best shape possible. If you are interested in our commercial HVAC service, call our commercial HVAC technicians today at 630-550-8723.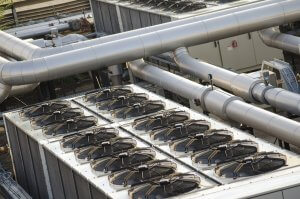 Commercial HVAC Services We Offer
As professionals who have been in this industry a long time, we know that business owners want dependable HVAC units at an affordable price. Because of this, they will turn to technicians who don't have the experience or knowledge to service commercial HVAC systems.Residential and commercial heating and cooling systems are completely different and need to be cared and tended to in different ways. Hiring a technician who has never serviced a commercial HVAC system will result in operation failure, repairs, and even an entire replacement. To make sure this doesn't happen, you can call our specialists for commercial HVAC service in Hanover Park, IL. We are able to service these types of commercial heating and cooling systems.
Rooftop units
Split systems
Industrial chillers
Cooling tower
Air ventilation systems
Furnaces
Unit heaters
Radiant systems
Packaged units
And more!
Our technicians are able to repair, replace, and install these types of HVAC systems for your commercial property. A great way to guarantee your heating or cooling system is in tip-top shape is scheduling regular maintenance. With maintenance services, we are able to extend the life of your HVAC unit, increase energy efficiency, lower energy bills, have better air quality, and prevent system breakdowns.
If you want to set up an appointment for commercial HVAC service in Hanover Park, IL, call us at (630) 550-8723.